I didn't really. But I became one. Not once, but twice. I became a triathlete over 5 years ago. Call it peer pressure. Fast forward to 2012 and I complete my first Ironman distance race in Cozumel Mexico. It was incredible. Knock it off the bucket list, one and done. Fast forward again to 2014 and here I am! I  just completed my 2nd Ironman in Los Cabos Mexico this past Sunday. Life works in strange ways.
Let me explain what an Ironman triathlon entails. Its a 2.4 mile swim, usually in an ocean, 112 mile bike ride, and a 26.2 mile run, otherwise known as a marathon. Crazy, right? I won't bore you with the details of how my first Sprint distance triathlon for fun morphed into this, but it did. Not once but twice. I arrive in Cabo San Lucas on Wednesday March 26th with my fabulous coach Sherry Rennard. I am now on Newport Coast Triathlon Team as well as Team Elite under this dynamo coach. We have lots of teammates racing. Im excited and nervous and we settle into our pre race routine for the next several days. It involves ocean swims and little short bike rides and runs to acclimate to the heat and racing conditions.
This is me and Coach Sherry before a pre death ride on the streets of Cabo. No me gusta.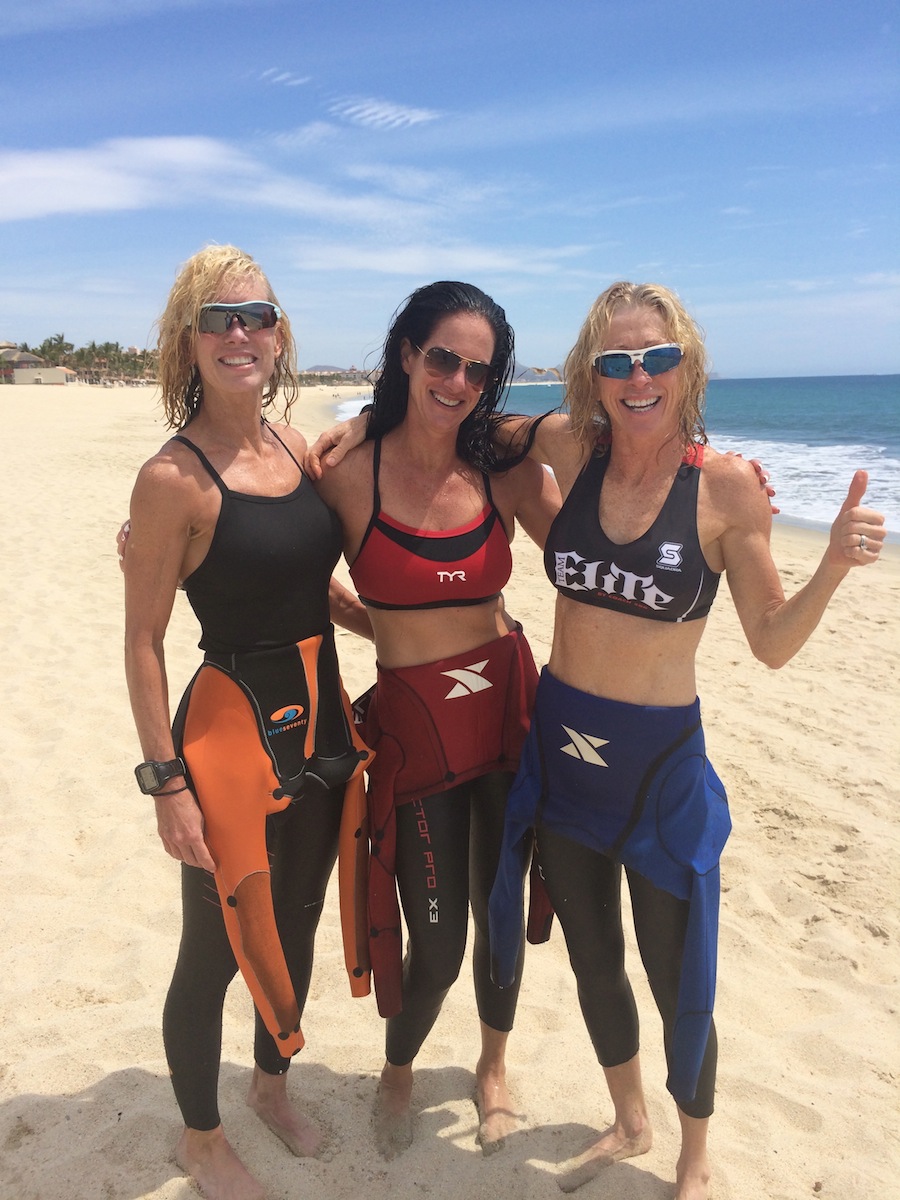 Ocean swim pre race. Looking like Charlie's Angels a bit, however, I think they dress a little better. Rough conditions and tension is mounting before the big day.
Here we are for Athlete check in. We obtain our race bag with our number and timing chip and race cap and all our goodies. It starts to get real. Note, I have on a cute coverup from Treva Beachwear and an oversized white blouse tied at waist for a casual yet chic beach look. Never forget your style no matter where you are!
My brother Doug flies from New York City to watch me race. He is a plastic surgeon and 6 years older than me. I am thrilled to have a family member there to support me and watch me in all my glory. Ironman tension runs high. It permeates through even the calmest contenders. My brother has a calming effect on me. After bike and gear check-in, he suggests we go to the Palmilla for lunch. I wear this fabulous cover up to check in my bike. I get strange looks but when I arrive at Palmilla I am just perfect. 🙂 Style is always in Vogue.
Race Day! I wake up at 4:30 am as planned. I follow my pre race routine. I eat my breakfast and get dressed in my team outfit. I braid my hair. I walk in the dark to the shuttle bus. The silence is deafening. Anxiety and fear permeates the shuttle bus. I arrive at the race and go through my mental checklist. Sherry finds me. We stand on the beach waiting for the gun to siren and all 2100 athletes to charge into the ocean and begin their long day ahead.
Very hard to look cute in a wetsuit. Ready to begin my day and nerves abound. Its acceptable to pee in your wetsuit. Thank God. The gun goes off at 7:00 am and all 1200 athletes begin their Ironman journey! The swim goes well, 2.4 miles of beautiful ocean with some arms clobbering me but to be expected. I settle into a nice rhythm and all is good. I start feeling my timing chip on my left ankle beginning to loosen. I am aware of it but I am not concerned. At 2 miles I am convinced it has come off. I panic. I scream. I dive underwater looking for it. Lifeguards are getting ready to rescue me. I look down and the chip is still on my ankle. I yell sorry and swim like lightening to shore! I end up with a 1:16 swim split, which is ok. Not a deal breaker. I still have a long day ahead. Im too focused to be embarrassed.
The next step is the transition tent. It is so lovely in an Ironman event because they have volunteers helping you to strip your wetsuit, apply sunscreen, offer water and do basically anything else you ask! It was so nice I spent 7 minutes in the tent and my coach asked me after the race  if I was applying my mascara in there it took so long! Not a bad idea Sherry! I start my ride, 112 miles of hills in 90 plus degree heat. All I am thinking is I have to run a marathon when Im done. I only ran one other marathon before and it was in my last Ironman 2 years ago! It was hot. It was hilly. I dropped a chain which I have NEVER done. It took 2 mexican men almost 15  minutes to detangle my chain while I stood there and cried. OK, I am not that tough. Then I heard them yell in unison, Animo! I jumped on my bike and off I went, tears evaporating in the wind! I managed the heat well with proper hydration and a purple sponge down my back. (There goes any fashion since I had red calf compression socks on and a black and red cycling outfit on!). I even peed on the bike! This was purely out of necessity but I felt pretty bad ass doing it! No one said Ironman was pretty. I hit my Garmin lap button at mile 50 by accident giving me a 5 hour T2 time, but I have a Cycle Opps bike computer so I was not worried. (Tri geek stuff). More excitement at mile 108 of the bike ride. I have a near miss collision with a car that decides to ride on the course and back up and aims for me! I yelled loud enough with the police and the fans that she missed me and I made it to Transition to get my gear and start my marathon.
I start my marathon and its 3:40 pm. I am excited. I started racing at 7 am but in my last Ironman I started my marathon at 4:00 pm. I was 20 min ahead in much harder conditions! I headed out on the 3 loop course. Hello hills! Whoever said this was a flat run course has not mastered the English language. Dios Mio. I had some work ahead of me.
I got into a rhythm and all I can say is it was due to racing with such wonderful friends and teammates. The support was overwhelming. The marathon portion of an Ironman is the true test of character, mind over matter, testament of will. For  me, its a reminder of how far I have come. Someone once told me that Ironman racing is a microcosm of your entire life. You will live every possible emotion in your life in the course of that one day. I believe that to be true. Of course I am thinking pace, form, time, however I am also reflecting on past, present and future. It hurts. You push. At the same time you see a man go by with 1 leg. You see a girlfriend walking with her boyfriend 26.2 miles because he is competing but has nothing left to finish. Acts of kindness run abound. The pain is temporary but these images in my head last a lifetime. At mile 20 I get dizzy. I cannot walk a straight line. Its dark and I am on a bridge. Three strangers approach me and offer assistance. I say I am fine. I walk until my head is clear and I can run again. I tell myself there is nothing in this world I cannot accomplish if I set my mind to it. At this point its me and me. Together I know we can do it. I have no doubt. I emerge from the darkness and I am in the last mile to the finishing chute. My friends and teammates are cheering. I know when I cross that finish line the feeling of victory will be no different than any other person that day, whether a seasoned pro or a first time Ironman. The sweet victory is all the same. This is why I love the sport. This is why I compete. This is why I am an Ironman again and again. And maybe again.